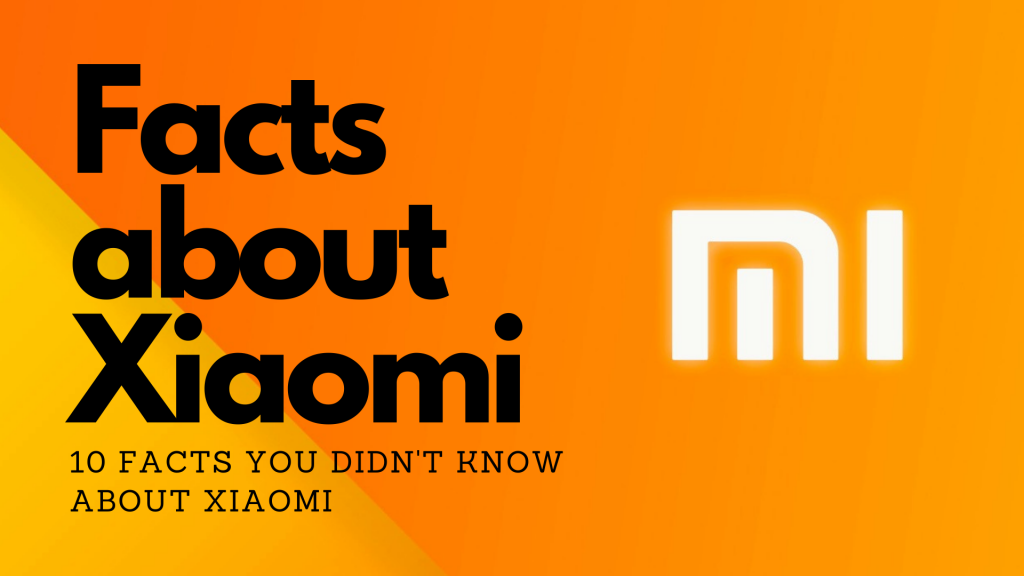 If you are reading facts about Xiaomi, we hope you already know something about the company. It is a Chinese multinational corporation that is blowing the brands away with its smartphone sales.
According to Guinness World Record:
"In a single day, Xiaomi sold more than 2.11 million smartphones."
Xiaomi not only holds its might in the smartphone industry – it also did a remarkable job in other home appliances, such as Smart TVs, LED Lights, laptops, electric scooters, smart watches, etc.
It's cheap and quality products are what make them famous. They enter the home appliances markets with quality products that cost you less. Through this tactic, they have expanded their business in large markets. They focused on customer support and made their brand people-centric, not product-centric.
With the help of their loyal customer feedbacks, Xiaomi realizes what they want and how to make better products. Through this strategy, they don't have to do immoderate marketing like other brands in their niches.
But what they did? In this article, we'll be discussing such facts about Xiaomi you surely don't know.
Facts About Xiaomi:
The 'Name' Itself – Have you ever wondered why someone would name a company Xiaomi. Well, it's time to get your facts right. The name Xiaomi means 'little rice, which is a Buddhist concept. The theme behind that concept isto start with very little and make your way to the top through hard work.
The word Xiao-Mi is also an abbreviation of 'Mi' which relates to the customer's personal choice – making them feel as they own it. Additionally, it also refers to "mobile internet" and "mission impossible."
Loyal Customers Community – Itis one of the brands that have a massive customer base. They aren't just huge but also very 'loyal' to the brand.
Xiaomi frequently hosts events for its customers around the world, especially in western and eastern European countries. They engage with them by inviting them to their stores and shows different products.
Country-based events – They also had welcomed their fans to do clean-up in Thailand after the floods. Xiaomi also invited its customers to the Christmas Event that happened in Spain.
These small acts have attached their customers more to the company, and this has created a loyal fan base.
Growth of 'Xiaomi' – Xiaomi, within ten years, from 8 founding members, has taken its name to almost 90 countries in the world.
With this incomparable growth, they smashed Apple and become 2nd smartphones vendors in Spain.
They mainly target countries where people are tired of Apple or Samsung's monopoly. They offered cheap but quality products there and made them their regular customers.
Why So Affordable – It's a fact that Xiaomi is so affordable with the prices they have offered for their phones. There are several reasons for it.
Firstly, they didn't do many advertisements for their phones, as I said before. This strategy saves them money, and they can do other things from that.
Almost 'No' Physical Stores – Secondly, they do not own any physical smartphones store in any country except China and Singapore. They made all their sales online, in this way; it has provided them with the cost benefits like maintenance, etc.
Wireless Charging – In 2020, the company released the wireless charging feature and pushed it to a new level.
With 80W wireless charging, you can now charge your phone from 0% to 100% in only 90 minutes. They showed the whole video at the presentation event. They also teased the viewers about the Air Charging feature they will bring in the future.
Air Charging – They shared that they are trying to charge mobile phones from Air Charging, you only have to enter the room, and your device will automatically start charging. It opens a whole new world to the wireless charging feature.
They don't lack innovation – Xiaomi has more range of products comparing to its competitor. The company went all out and expanded to cover most of the home appliances available.
Whether it's an electric scooter, robot vacuum cleaner, mattresses, and even trimmer, they try to occupy and build the ecosystem with their customers.
Under Display Selfie Camera – The Company teased its 3rd-generation under-display selfie camera feature.
What they do is they put the selfie camera under the display of the phone and remove all types of notch or dots. They use it so well that no one can find a point where it's hidden.
I hope you have learned some interesting facts about Xiaomi in this post. If you have any suggestions or queries regarding this post, do let us know in the comments.