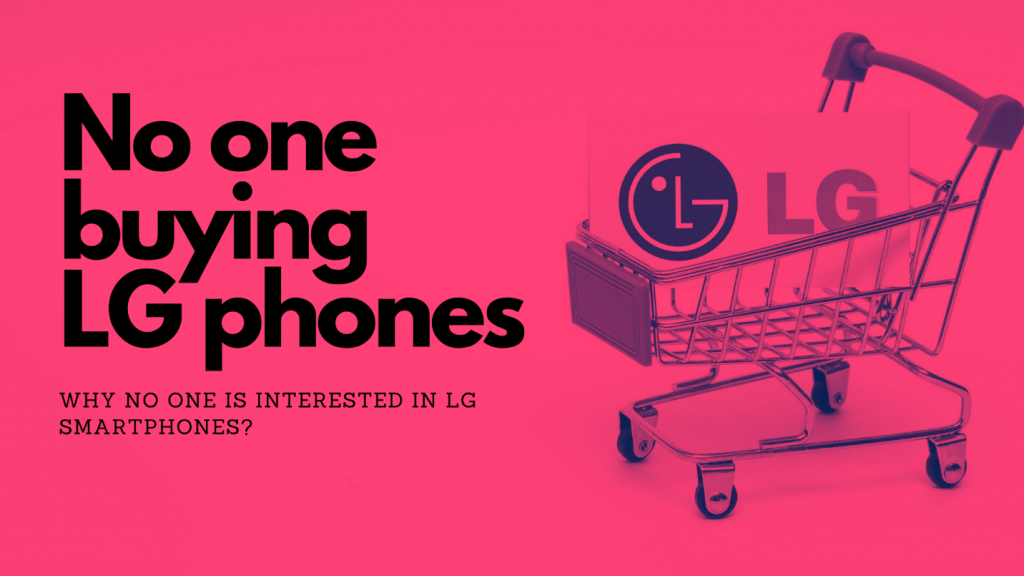 Have you ever wondered what happened to the LG? The brand doesn't seem to be in the headlines for quite some time regarding 'LG smartphones.'
Well, it's because of the announcement LG made about the shutting down of their smartphone business.
In the first week of April, they posted on their official website, announcing the closing of its smartphones division and that they will provide three years of software updates to its smartphone users.
According to Forbes, LG made this decision because of the years of losses in their business. Sales statistics for their latest mobile phones show that they are losing money. But, their announcement of closing their units created a massive gap in the market, as in America, they are 3rd largest brand after Samsung and Apple. Chinese companies have also shown interest in American markets in light of potential customers, which fill this void.
The Real Reason Why LG Smartphones Declined in Sales:
We have seen many case studies coming from the experts discussing the decline of the LG Smartphones business. Their researches reveal three significant items, which potentially hits the LG and cause them to fall. Those three factors were:
Lack of consistency.
Lack of marketing.
The pricing problem
We'll discuss them one by one, so you can be sure what to do and what not to do for your business.
Lack of Consistency
We really can't expect a lack of consistency and innovation from such a big company. And that's not the case. But they proved themselves over the years in the market and their competency.
But what went wrong?
LG focused so much on innovation that they launched something new every year, experts said. Instead of polishing their current smartphone lineups with the features they already have, they added.
From QHD display to ultra-wide-angle cameras, they already have the authority to build a quality smartphone that can have the competency to rule over other flagships. Instead of building and improving the brand, they choose to create new hardware.
Over the years, they created fantastic hardware and provided their customers what they want. But they didn't focus on the 'customer loyalty' parameter, which could improve a lot if they try to build the ecosystem around them.
Almost all aspects of LG smartphones models, whether it's color choices, designs, themes, system apps, all look pretty dull and cohesive.
Let me explain to you what I just said. If you focus on other brands, such as Apple, they are known for their premium looks, aesthetics, premium prices, etc. Although they lack some features, people can associate themselves with the brand. Same with Sony, we all know what they are known for, yes, their "cameras."
But that's not the case with the LG. Therefore, they lack customer loyalty.
Lack of Marketing
Yes! for a big company like LG, they still need to market their products. LG didn't do so well when it comes to market their smartphones.
Changing Facebook page covers, Instagram images, and Twitter covers will not be enough to represent your products.
On one end, they did so well in innovating their products such as dual-screen smartphones, self-healing backs, curved displays, etc. But, when it comes to market it, they just lost it in the void.
I think these might be the following reasons why they didn't market their phones successfully:
They didn't grow and connect with their users.
LG lacks user support.
It looks like they don't have a PR team.
They didn't market their launching event properly.
It is clearly difficult for the company to hold its market position in light of all the above given factors.
The Pricing Problem
When the company launched products, they have presuming statistics about opening day sales. Many companies create 'flash sales on the first day, it depends on the quantity they want to sell.
But if we look at LG smartphones, they launched at a very high price. For example, if you look at LG Velvet's price tag on launch day, it was around $700. But after six months of its launch, the price falls to $350. That is the worst value retention of the product we have seen.
It creates a big mess within your customers, as they thought:
"The investment we did in the company (in terms of buying their products) has no value at all."
That's it. The customers would never buy from the company again. If you have any suggestions or queries regarding the post, do let us know in the comments.